On a suitably slate grey Melbourne day last year, 28 of Australia's most savage, interesting and adventurous (and often silly) bands assembled at the mighty temple of Melbourne's Goatsound Studios to smash together and record their own interpretation of songs off legendary grindcore band Napalm Death's seminal 1987 album "Scum" with Goatsound boss, head engineer and Blood Duster legend Jason Fuller.
The result of this beer-soaked, band-packed recording session is "Goatsound Napalm Death "Scum" Reinterpretation album Volume 3″ which features Neck Grip, Hot Sludge Fundae, an all-star band comprised of Blood Duster and King Parrot members, Fuller's own Birdcage, Black Jesus, Smoke Witch and many more. All proceeds will be donated to the YWCA Victoria, an organisation improving the lives of women by ending inequality. We caught up with Jason Fuller to discuss the record, which is released today and available on Bandcamp for the princely sum of $10.
What drove you to create this project?
Jason: Originally it was a way of promoting the business, Goatsound. But i didn't want it to be profit-driven as it was a way for me to get my name – or keep my name out in the music community. Now it is more of a challenge and a party and I feel like it is that way for everyone involved in the project as well, its a way to give something back and have some fun.
Why was Napalm Death's Scum the right record to re-interpret?
Jason: Because it was one of the first albums for me that forced me to think about the world around me, and it is a great album. 28 songs was probably a little too many. I'll never do that many bands in a day again … I mean why would you?
How did you choose the bands? What about the new configurations of bands that were assembled?
Jason: I originally tried to find as many female musicians as i could, as gender diversity is something I have been thinking about quite a bit, especially in the heavy music scene. They all had to be bands I liked and respected.
What was the most memorable moment of the recording session?
Jason: There were a few moments where the wheels nearly came off as people were a little too wasted or hungover from the night before … but nothing too memorable for the wrong reasons. It was and is generally always a pretty chill day. We all get together, drink some, eat some and record some. It's good.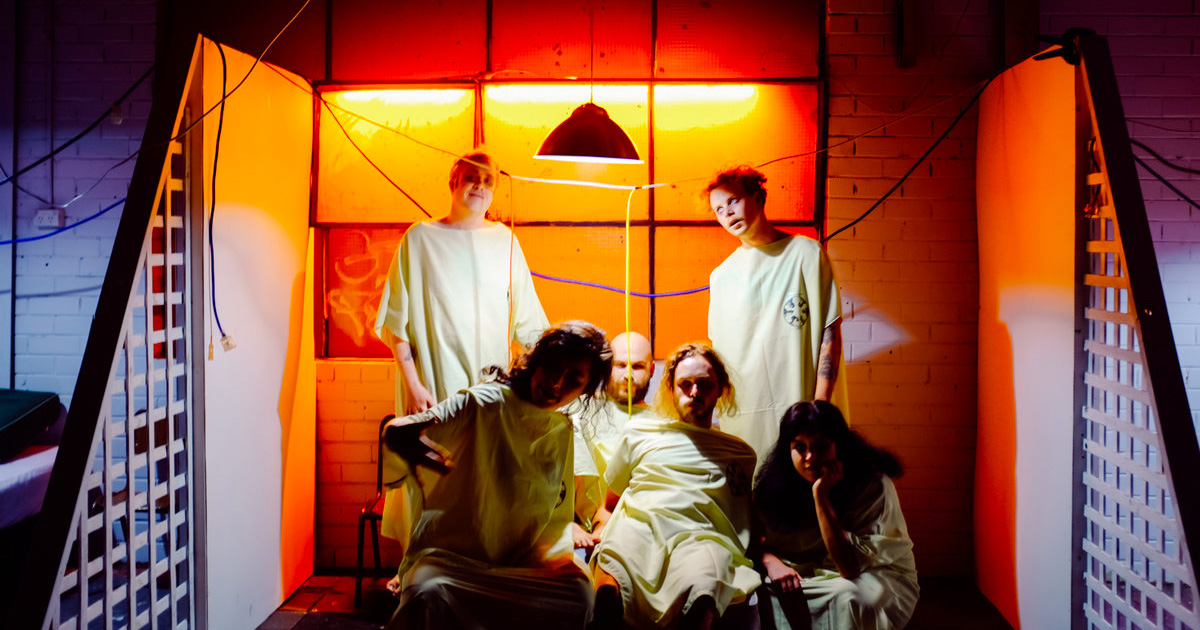 Pictured: Hot Sludge Fundae (Bandcamp)
Who are the most exciting bands on the release?
Jason: Shit, there are too many. I think Contaminated and ESO Mayhem have to be two of the best. Black Jesus and Hot Sludge Fundae did a crazy version that you would never be able to tell was a Napalm Death death song. I like my band's (the Birdcage) version. There are too many … really, its good.
Who are the biggest idiots?
Jason: Neck Grip, most definitely. they share the IQ of Marshall speaker box.
What do you think is the significance of Napalm Death's Scum when it came out and has it increased or decreased over time?
Jason: I think it has probably increased as the genre probably wasn't meant to have the importance that it has gained over time. It's like anything that is somewhat of a "first." Bands pay homage to it and steal it almost wholesale before developing their own take on things. To me it still sounds somewhat fresh and i still hear new things in it. It really is a great album.
Why do you think Barney and Shane's shared biggest regret is not playing on that record?
Jason: Because it's fucking great? I'm glad the album is how it is though, I cant imagine it being any different.
Do you remember the first time you heard it? What did it make you feel?
Jason: At first I laughed as it was fucking crazy, but then after repeated listening it made more and more sense. I know people say shit like "it changed my life" about records all the time, but really it changed my life. In a good way. It came along right as I was ripe for political and social influence and who knows what i would have became if I only had thick-necked fuckwits like Slayer as my social information.
Pictured: Jason Fuller and Tone Bone @ Final Blood Duster show, The Corner Hotel
What are some other records with an equal level of power, in your opinion?
Jason: Their follow up "From Enslavement" is probably even better in terms of delivery and aggression. Dischage, Terrorizer, Repulsion … too many.
What does Australian rock and/or grindcore share with Napalm Death?
Jason: I think every grindcore band shares stuff with Napalm Death. The way grindcore is written has a lot to do with early Napalm Death – not just for Australian bands – every band.
The Void's recent interview with Shane Embury of Napalm Death
What is your history with Napalm Death with your band Blood Duster? I know you guys did a split release [with Shane's other band Venomous Concept] and also once upon a time may or may not have thrown piss on Napalm Death's Shane Embury in Japan.
Jason: I threw piss on matt from blood duster and it accidentally hit Shane. He now claims it didn't but i saw him wiping off piss so i stand by my version of events. We did a split with Shane's side project "Venomous Concept".
Shane mentioned Tony rolling around a massive festival with an enormous flagon of strong liquor that he was sharing with everyone. Do you remember this?
Jason: Yeah, that was at Obscene Extreme Festival in Czech, it was an oversized Czech liqour, not sure of the name … probably something way to hard to pronounce while drunk and harder to remember once sober. I think it was a giant green bottle.
What is a random fact about the Scum record that people may not know?
Jason: That old mate from Carcass did the cover? Shit I think the album has been pulled apart so many times its going to be hard to find any new titbits of info.
How did you decide on the charity you will be donating proceeds to?
Jason: Generally it is something that is affecting people at that time, usually through conversations with people who will be taking part on the record. It is no set thing, I have no idea who the next one will be. But I do like the idea of changing it each time as it brings to light subjects that may be either hard to deal with or that just deserve a bit more conversation.
Has music gotten less extreme over time, or more extreme? Or has the world become desensitised?
Jason: I think it has got less extreme, there are occasions where i feel bands are doing it for the right reason and pushing shit in a way that hasn't been done, but a lot of bands now will copy wholesale, and that in general is pretty boring. Although, even with that there are exceptions. It is easy to be extreme if that's what everyone wants, its much harder to play something people don't like.
Tracklist: 
1. Occult Blood – Multinational Corporations
2. Shitwreck – Instinct Of Survival
3. Spawn – The Kill
4. Birdcage – Scum
5. Reaper – Caught… In A Dream
6. Headless – Polluted Minds
7. Christ Crusher – Sacrificed
8. Kutabare – Siege Of Power
9. The Kill – Control
10. Black Jesus – Born On Your Knees
11. Grudge – Humam Garbage
12. The King Parrot & Blood Duster All Star Band – You Suffer
13. Hot Sludge Fundae – Life
14. Judas Wolf – Prison Without Walls
15. Wounded Pig – Point Of No Return
16. Ding Dong Death Dole – Negative Approach
17. Filth – Success
18. Murio En Chaos – Deceiver
19. Smoke Witch – C.S.
20. Ghouns – Parasites
21. Road Rash – Pseudo Youth
22. Contaminated – Divine Death
23. Bunyip – As The Machine Rolls On
24. Dead Root – Common Enemy
25. Creep Diets – Moral Crusade
26. ESP Mayhem – Stigmatized
27. Cosmic Kahuna – MAD
28. Neck Grip – Dragnet
Comments
comments