Australian progressive rock right now is like a winding kaleidoscope of iridescent colours and flavours and meaty riffs and cinematic soundscapes with pink smoke bellowing; it is the soundtrack for beautiful mystical horse creatures to gallop over dewy Australian fields on the dusky horizon. It's mournful and triumphant. Grown men cry it is so beautiful. It is FIRING right now; like Hunter S. Thompson out of a cannon (how he actually went out, but I digress).
The most valuable life lesson I've learnt from working in music and having a lot of mates who play in bands is that no one knows the awesome bands like the guys on the actual circuit. This regular series is all about giving you a guided tour through the wilderness of Australian music, with a helping hand from some of the most rad bands out there right now. This will be a regular thing. So whenever you are in a certain kind of mood, you have a majestic selection of wonderful Australian rock and roll.  Thanks to Toehider, Ne Obliviscaris,  sleepmakeswaves, Caligula's Horse, Acolyte, Whitefall, Closure in Moscow, Osaka Punch and Voyager for sharing their tales from the road & their favourite bands right now.
Christina: What is the strangest thing you've ever seen at a show?
Caligula's Horse: "We had a hilarious show in Vienna last year. We were touring with a prog metal band from Norway called Shining. Coincidentally there's a very different band from Sweden who are also called Shining, a totally grim black metal group. There was a woman attending the show who quite clearly came to the wrong place, and our particularly fruity approach to prog metal wasn't nearly frostbitten enough for this mad crone, who was shoving people aside in the front of the show screaming insane non-sequitur heckles and probably casting hexes and shit. Sounds awkward, but I was having a great time. There was also a show with Voyager in Australia where someone threw a shoe at Danny Estrin on stage for some reason. Dude caught the shoe, didn't skip a beat, changed a lyric of the song to be about the shoe, show goes on. Such a pro."
Ne Obliviscaris: "A girl tried to lick my violin while I was playing in Seattle a couple weeks ago … that was definitely a first."
Closure in Moscow: "We were on the road in the USA and got invited to a university to see an art show. A girl performed an original acoustic song for her art project in front of her peers. After the song was done she cut a hole in her jeans, pulled out a bucket and urinated in it on stage. I was impressed."
Toehider: "I played in a band that used to cover King Crimson's "21st Century Schizoid Man." We were at one of those shows where we're basically just playing to the other bands and bar staff, and we get to the intricate section of the song. For some reason, a member in the band just has enough and says "I don't want to do this anymore" and stops playing! Right at the hard bit. It's not that he couldn't play it, we'd nailed it countless times before. Anyway, the problem with this story is that I can't remember how it ends. I'd like to say that the rest of the band just carried on without him, but I think we said "okay that's it from us, thanks" and we all walked offstage."
Voyager: "While we were playing in Melbourne (at a sold out show at the Workers Club), a crazy male fan undressed in the crowd and jumped up on stage wearing nothing but Voyager embroidered underwear and body paint and presented us with a pot-planted orchid. He was masterfully replicating the scantily clad female lead in our video clip for the song "The Meaning Of I" (YouTube it!). It was actually amazing!"
sleepmakeswaves: "I've seen grown men reduced to tears by a John Petrucci guitar solo, in a song about a dead girl being someone's secret soulmate."
Circles: "Wasn't quite at a show but it was on our way to one if that counts? We were on our way to the UK on the tour bus and we stopped for border check and we found out that there were two refugees hiding in our trailer! They snipped the lock while we were sleeping, threw out our drummers snare drum and jumped in with all the gear!"
Osaka Punch: "I had the pleasure of seeing TISM support Regurgitator in 1998 in a little mountain village called Kuranda in far north Queensland. At the close of their set, all seven members got naked and jumped up and down in time with the song. Seven dicks swinging in synchronisation, yep that's probably the strangest thing I've ever seen go down on stage."
 Christina: What was your first exposure to prog? What did it make you feel?
Closure in Moscow: "Genesis was my first exposure to progressive rock. My father had a pretty extensive vinyl collection and Foxtrot was a favourite of mine. I actually chose it because of the album art. Till this day I am musically infatuated with Phil Collins and Peter Gabriel. Those cats can't make a bad song."
Voyager: "I remember hearing King Crimson's RED album when I was a teenager and not really knowing how to feel about it. At that time I was immersing myself so heavily in the darkest/heaviest music I could find that it didn't really make much of an impact; however Pink Floyd's "Dark Side Of The Moon" was an album I've always loved listening to and it always found it's way onto the stereo at the end of many drunken nights! As for how the genre in particular makes me feel, I think it's really a matter of timing and what band I'm listening to. I'll often feel melancholy when I listen to "Fear Of A Blank Planet" by Porcupine Tree. I tend to feel retrospective when I listen to Opeth's "Damnation" album. However there's a lot of prog rock that bores me to tears!"
Toehider: "I would have to guess it was Queen. They don't get the "prog" tag much, but c'mon … "Bohemian Rhapsody" is prog as heck."
Ne Obliviscaris: "The first progressive artist I hugely connected with was Opeth and their "Blackwater Park" album. I had never before heard music so intense, so heavy and yet so melodic and beautiful. I also remember listening to Pink Floyd's "The Dark Side of The Moon" and just being blown away at how ahead of its time was with all the sounds and atmospheres they were creating.
sleepmakeswaves: "The first 'prog' band I ever got into was probably Dream Theater at age 16. I remember being captivated by the different colours and shades within the songs, alongside the variety of instrumentation and moods the band created. There was also this jaw-dropping technicality that inspired my own guitar playing. I really loved it and emailed all my friends to share it like I'd just discovered something really important."
Caligula's Horse: "I (like heaps of people) was introduced to prog through bands like Dream Theater, then Opeth. At the time, those bands were like nothing I'd ever heard before, and they introduced me to a world of sound and storytelling in an entirely new medium to me. Tastes change and develop over time, and its been a long time since I spun some of my old Dream Theater albums, but I still have a soft spot for them."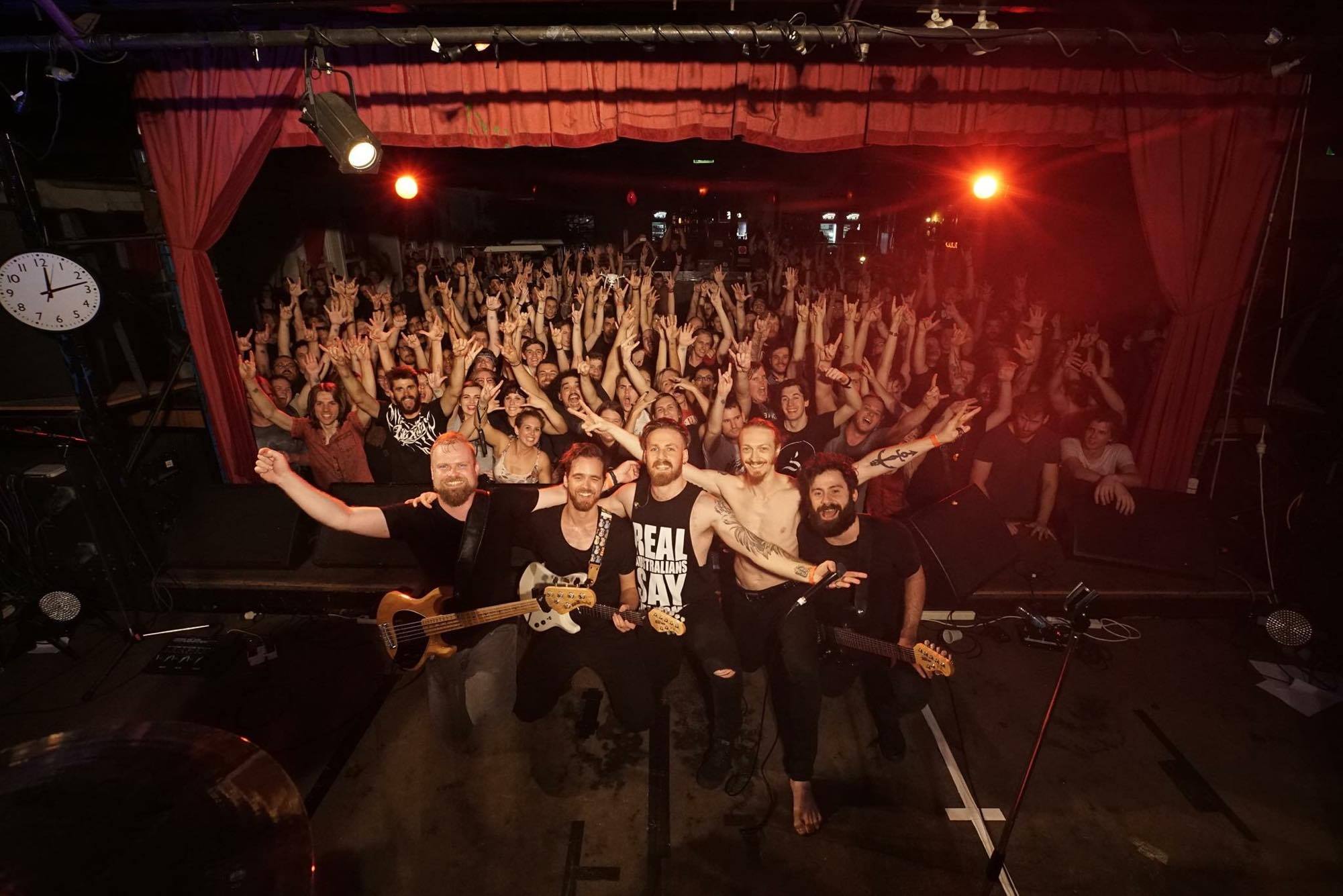 Caligula's Horse in Brisbane. Credit: Caligula's Horse Facebook
Acolyte: "Hearing my parents and older cousins playing Led Zeppelin and Pink Floyd and Black Sabbath as a nipper was a great gateway into the rock vibe which compelled me to dig deeper and uncover ELP, Rush, Yes and more who were coming out with some mind blowing stuff – virtuosic and highly dynamic. By the time I was beginning to create music myself I was able to look at contemporary examples of the time, bands like Porcupine Tree, Tool and Opeth showed the variety and scope of what could be achieved by building upon those amazing bands in the Seventies with harder edges and even more soundscapes. The best part about it is how it can make you feel all the emotions, often within a single song one after the other or even multiple feelings concurrently."
Circles: "I guess if you want to categorise it, Dream Theater was most likely the first "prog rock" band I was exposed to and it made me feel like shit! The musicianship was incredible and trying to learn some of that stuff melted my brain, haha. It definitely taught me a different take on songwriting and the importance on creative freedom that I never really thought of up until then."
Whitefall: "My first exposure to it was probably when I discovered the often polarising offspring of "progressive metal" know as "djent." A standout album for me (and one that has still heavily influenced my playing to this day) is "The Discovery" by Born of Osiris. It's a departure from their previous "deathcore" sound (also their only album to feature Jason Richardson), but the direction they took really laid the foundation for the musician I aspire to be. The sound and composition from that record then lead me to discovering (no pun intended) Periphery, and then listening to less metal influenced acts.
Osaka Punch: "I was exposed to early prog bands like Pink Floyd, Led Zeppelin & Queen when I was growing up but it wasn't until high school when I heard "Aenima" by Tool that the penny really dropped for me. It made me feel funny in my pants, so I knew I liked it!"
Christina: Who do you think are the most exciting progressive Australian bands right now?
NE OBLIVISCARIS: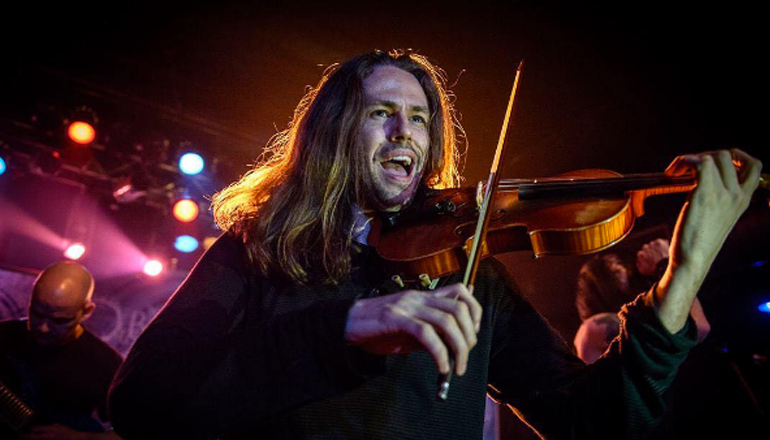 Tim Charles, Ne Obliviscaris. Image credit: @eplixs
Karnivool – "Change"
Ne Obliviscaris: "One of my all time favourite songs that is written masterfully and has literally brought me to tears when witnessing live. One of the great bands in the world today."
Plini – "The End Of Everything" EP
Ne Obliviscaris: "Just check out the whole thing. What a masterpiece of an EP. Absolutely incredible musician and it was an honour to have him open for us on our last Australian tour."
Closure in Moscow – "Pink Lemonade"
Ne Obliviscaris: "Tripped out craziness from an album that was my #1 of 2014. This song is incredible and the whole album blew me away."
Caligula's Horse – "Turntail"
Ne Obliviscaris: "My favourite song off their latest album "Bloom" combining their heavy and catchy elements perfectly. One of the best emerging rock acts in the country."
sleepmakeswaves – "To You They Are Birds, To Me They Are Voices In The Forest"
Ne Obliviscaris: "Australia's pre-eminent progressive instrumental rock and always great live."
Ne Obliviscaris: "And I could go on and on … Voyager, The Helix Nebula, Meniscus, Dumbsaint, Chaos Divine, Dead Letter Circus and more. The Australian prog scene is the best in the world in my opinion."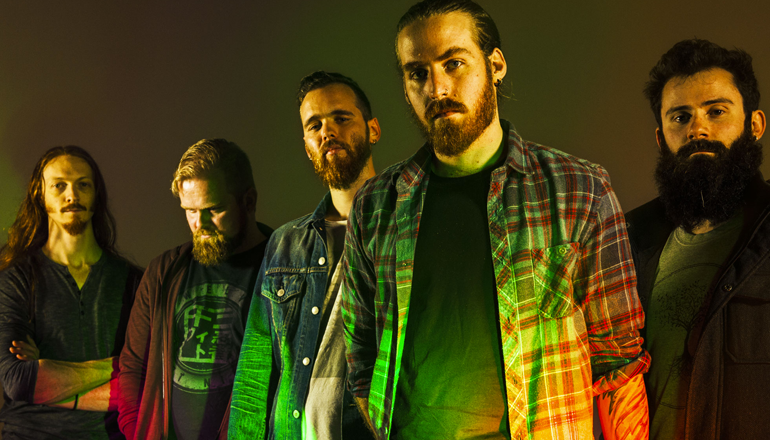 Dead Letter Circus – "Tremors"
Caligula's Horse: "Can't go wrong with some Dead Letter Circus, I've been a fan of these dudes since pretty much their first show many years ago in a tiny venue in Brisbane. Their song Tremors is an oldie but a personal favourite."
Voyager – Seasons of Age
Caligula's Horse: "Voyager are one of the best live bands in this country, period. Wonderful people making great music, and their tune The Seasons of Age is one of my favourites."
Twelve Foot Ninja – "Kingdom"
Caligula's Horse: "Twelve Foot Ninja are another group of Aussie legends, they've got a new album coming out soon and are touring the world like mad. Kingdom is one of their best!"
A Lonely Crowd – "Blur"
Caligula's Horse: "A Lonely Crowd are a band out of Melbourne that don't get anywhere near enough attention. Their vocalist Xen is amazing, and she has one of the most distinctive approach to vocals I've heard. Their single "Blur" off their first album is solid gold."
Dyssidia – "Brittle Star"
Caligula's Horse: "Dyssidia from Adelaide are also a great bunch of up-and-comers – their singer Mitch has a beautiful voice and an enormous range, which carries spectacularly live. Check out their tune Brittle Star."
CLOSURE IN MOSCOW:
The Occupants – "I've Been Thinking"
Closure in Moscow: "Flynn and Luke from COG with a track that smashes you with melodic hooks and powerful synth and bass lines. I'm all about hooks, and this bad boy has dangerous levels of it."
Dead Letter Circus – "The Space On The Wall"
Closure in Moscow: "The recorded version is stellar but the seeing this track live is earth shattering. That half time at 2:20 is just perfect and hits you right in the chest."
Gatherer – "High Fives"
Closure in Moscow: "Badass riffs with some serious attitude and great lyrics that get going."
Mandek Penha – "When I Touch My Leg" [not on Spotify, but on Bandcamp]
Closure in Moscow: "Makes weird look weird and I love it."
sleepmakeswaves – "Great Northern"
Closure in Moscow: "Intensely moving instrumental band. Great motifs and phrasing to make any music nerd cream."
All the Colours – "… And The Earth Stood Still"
Closure in Moscow: "Number Six! Not prog rock, but they are a badass band that will melt your face. This track is mainly instrumental, but the rest of their tunes are fire! Another one to watch live."
VOYAGER:
Toehider – "What Kind of Creature Am I"
Voyager: "It's hard to think of any Australian heavy bands that are as prolific or as uniquely quirky like Toehider. This album (and song) is so interesting to listen to. Not to mention it was (to my knowledge) tracked entirely by the singer/guitarist Mike Mills at his house. Definitely a band worth supporting."
Silverchair – "Tuna In The Brine"
Voyager: "Although currently on Hiatus, I chose this just to force some light on this brilliant track by a band that was largely ignored by many "real music" fans (including myself for a long while) because of their commercial success. If this magical song isn't progressive, I don't know what the fuck is!"

Orsome Welles – "Swim"
Voyager: "Orsome Welles are straight up a powerful, raw and emotive band. Their dapper on-stage appearance is juxtaposed with heavy-hitting riffs that have an "old school" feel to them in that they make you remember back to when you first heard a heavy band crush the fuck out of their set. Lovely dudes, killer tunes!"
Caligula's Horse – "Turntail"
Voyager: "Our friends in CA are doing great things for heavy Australian music scene. Tight and punchy, the guys had to make this list."
Plini – "Every Piece Matters"
Voyager: I'm pretty new to this artist but this track shows off lovely melodies and overall production. Plini has been making waves and is making every guitarist jealous of his abilities!
TOEHIDER:

Toehider – "What Kind Of Creature Am I" on Bandcamp
Caligula's Horse – "Firelight"
Toehider: "These guys are nailing the marriage of the old school and the new school."
Plini – "Electric Sunrise"
Toehider: "This guy is extremely refreshing, redefining instrumental shred guitar."
Twelve Foot Ninja – "Invincible"
Toehider: "Their singer Kin is absolutely flawless, my favourite singer at the moment."
A Lonely Crowd – "Free Fall"
Toehider: "Had the pleasure of playing countless shows with these guys and girl, incredibly creative and unique."
Troldhaugen – "Viva Loa Vegas"
Toehider: "The term "greatest thing ever" gets tossed around with such reckless abandon these days, but … well, just listen to them."
sleepmakeswaves:

Stare at the Clouds – "The Falling"
sleepmakeswaves: "Keelan Butterick's voice melts my heart and his guitar licks melt my brain."
Cog – "My Enemy"
sleepmakeswaves: "It's been so rad to tour with these guys. Their music was groundbreaking in Australia, and their lyrics remain depressingly relevant."
Karnivool – "We Are"
sleepmakeswaves: 'Vool combine beautiful melodicism with stunning riffs and compositions. One of the all time greatest rock bands, let alone prog bands."
Tangled Thoughts of Leaving – "Quakes"
sleepmakeswaves: "Rad keyboard-driven, off-kilter vibes."
Meniscus – "Idiot Savant"
sleepmakeswaves: Some moments of utter heaviness interspersed with some of the most tranquil and soothing guitar playing I've ever heard. Incredible atmospheric music.
CIRCLES: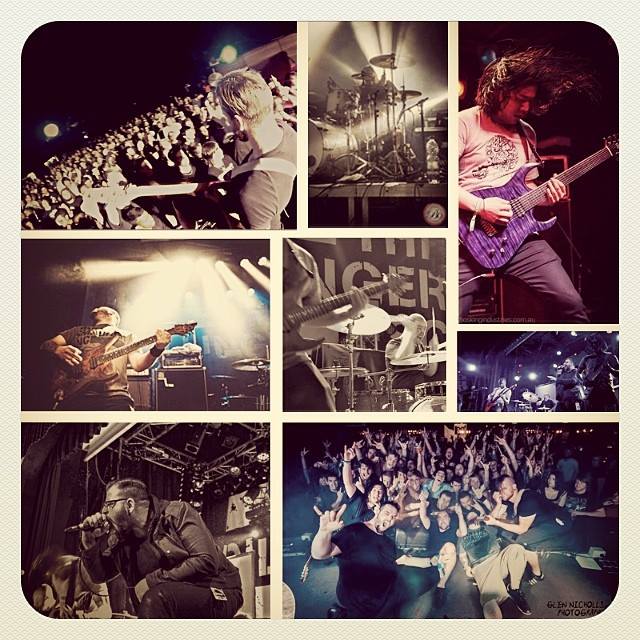 Circles live and dangerous. Source: Circles on Facebook
Circles: "Shiiiitt I'm terrible at these things! It's a good thing though, there is amazing music in Australia atm. Bands like Caligula's Horse, Chaos Devine, Humality, The Helix Nebula and Plini just to name a few. There are obviously bands that everyone will know like Cog, Karnivool, Twelve Foot Ninja, Hiatus Kaiyote (are they considered prog?) either way they're sick."
Hiatus Kaiyote – "By Fire"
Caligula's Horse – "Rust"
Karnivool – "Umbra"
Plini – "Electric Sunrise"
Cog – "The Spine"
Hiatus Kaiyote – Choose Your Weapon on iTunes
WHITEFALL:
Majora – "Iridescent"
Whitefall: "The band I believe to be one of the real front runners of up and coming prog acts. Stand out track has to be "Iridescent." I first heard it at the end of a Socceroos documentary that gave it this massive "finale" feel to the end of it. The song starts with this melodic jam that crescendos into this giant finish. Also, worth noting, their latest single "Tidal" was produced by Dax Liniere (who also produced our debut EP "Origins")."
Sevsons – "Nebulous"
Whitefall: "One of the best things about being a musician in this day and age is that there's literally millions of other musicians that are able to communicate with one another online, and are still yet to meet each other in person. Enter Sevsons. I met their vocalist Rhys through Facebook, and it's one of the few cases where we're able to talk stuff other than music and not let the fact that our bands sound incredibly different get in the way of that. One of the more established Sydney prog acts of recent times, their track "Nebulous" has this mad "TesseracT" feel to it, and an equally awesome video to match."
Lowgazer – "Carcosa"
Whitefall: "A new band from Wollongong, me and our bass player Ben actually went to high school with their guitarist Jordan and drummer Luke. We played with them a couple of months ago, and they are SERIOUSLY tight (like ridiculously tight). They sound like an Australian take on Periphery and other Tech/Prog-Metal acts, so the fact that they sound so tight live works massively in their favour. You wouldn't guess that they've only been a band since February. They've only got a demo of their song "Carcosa", so keep an eye out for them, or (better yet) catch them live if you get the chance."
Stare at the Clouds – "The Clear Divide" album
Whitefall: "Another band from Sydney that we had the pleasure of playing with, these guys have this spine tingling, dark, atmospheric sound that's delicate at times, and massive at others. They released their album "This Clear Divide" this year, so give it a listen. It sounds huge."
Ebonivory – "Light The Fires"
Whitefall: "I consider myself incredibly lucky to play with these boys, as they have recently called it a day as a touring band unfortunately. Luckily they're still sticking around as a studio project run by their vocalist Charlie. Their song "Light the Fires" is a fairly new one, but demonstrates that they still sound just as huge."
OSAKA PUNCH:

Closure in Moscow – "Church of the Technochrist" (Pink Lemonade 2014)
Osaka Punch: "I absolutely love the album Pink Lemonade from start to finish, it's a progressive masterpiece! Osaka Punch recently had the pleasure of touring with CIM & they are amazing live too! This song has a great groove, funky guitars, a disco breakdown & a fucking catchy chorus! The concept & lyrics are hilarious too. A great band doing something truly original."
sleepmakeswaves – "Emergent" (Love of Cartography 2014)
Osaka Punch: "Another original & forward thinking band & old friends of mine. They really nailed their latest album 'Love of Cartography' it has amazing production & the songs are crushing yet beautiful. This track builds slowly to really kick you in the face by the end. Again killer groove, odd timing, great use of synths & electronics, huge guitars & monstrous basslines. These guys are another amazing live band, a must see!"
Twelve Foot Ninja – "One Hand Killing" (2016)
Osaka Punch: "Osaka Punch had the pleasure of playing with TFN in 2012 for their Silent Machine tour, what an amazingly talented band! That heavy riff makes me want to mosh like I'm 15 years old again. It's got technicality, groove, strong vocal melodies & funk, what more could you ask for? Oh and the video is hilarious!"
Karnivool – "Goliath" (Sound Awake 2009)
Osaka Punch: "What can I say? It's Karnivool, the undisputed kings of Aussie prog rock! Everything is amazing in this track odd time signatures, cantankerous bass tones, chunky guitars & Ian Kenny's beautiful soaring vocals. That outro riff makes me want to punch babies, but you know, in a good way."
Shanghai – "Caveat Emptor" (The Ultraviolent 2015)
Osaka Punch: "Great mates Shanghai from Sydney are veterans of the Aussie prog rock & Avant garde rock scene. This track is a great introduction to the band, heavy use of horns, down tuned riffs, auxiliary percussion, keys & amazing vocal melodies. It's hard to find another band as original & talented as Shanghai!"
ACOLYTE:
Karnivool – "Aeons"
Acolyte: "Such a haunting and beautiful track with a really raw apex that just brings on all the feels. Their attention to tonality and mixing a sonic palette of textures in just the right way is superb."
sleepmakeswaves – "Traced In Constellations"
Acolyte: This is how you say so much without saying a thing. This track, like so many of theirs, is a journey and all the instrumental layers form a perfect tapestry of sound with a unified energy. Very evocative and powerful stuff."
SEIMS – "TUN"
Acolyte: "These guys just monstered the stage when we played with them on our Sydney leg of our last national tour. They're definitely a band to check out if you love some fast and furious sonic soundscapes!"
Christina: What do you think is the biggest misconception about it?
Closure in Moscow: "That it is some sort of avant-garde, self centred pretentious wankery. Don't get me wrong, there is that kind of stuff out there too. But for the most part, rock music that doesn't follow the trend and progresses simple ideas into complex ones will always be my cup of tea."

Voyager: "Hmm … Maybe that sticking random riffs together to create a 12-minute, incoherent clusterfuck of a song makes it "prog"? Hahaha."
Toehider: "I think a lot of people miss the humour, and prog gets a bit of a stigma of taking itself too seriously."
sleepmakeswaves: "Probably that it's technicality and wankery for its own sake. Which, to be fair, it can be. But truly great prog never feels overblown or overly adorned to me, it just creates a compelling atmosphere. Also that it's a boys club. It's been rad to see more and more girls at prog shows over the years, and I hope it can continue to be a welcoming and safe space for everyone."
Caligula's Horse: "The biggest misconception about prog is about technicality – for some reason people believe that to be 'prog', music has to be insanely technical and intentionally obfuscatory. That's not the least bit true, and technicality for technicality's sake is something that Caligula's Horse aim to avoid at all costs. We focus on songwriting and capturing the mood and the message of the song."
Acolyte: "People tend to think its just one genre, when it's perhaps the most malleable type of music there is. Prog is a way to explore and combine all types of music styles unrestricted by a standard model of how form and structure should be. Often people think there is an unassailable barrier to entry when it comes to enjoyment, particularly for those who aren't musicians but the subconscious knows what it likes even if it doesn't necessarily know why, so understanding is not a requirement to find it very rewarding."
Circles: "Maybe it's just me and I'm clueless but I actually don't know what it is haha. If I can't categorise something I just say it's progressive. So I guess I'm not really sure? Maybe that's it! The misconception is the lack of definition or guidelines that make an artist progressive? I dunno, Good answering huh? haha"
Whitefall: "Probably the biggest misconception I find with prog is that the musicians are viewed as somewhat of a group of "Elitists", compared to, say, pop musicians. Not so much the musicians, but the fans (and I mean real, purist fans) go around saying "Prog is so much better Pop because they can only play some shitty 4 chord song compared to our far superior 12 minute jam with 20 time signature changes!!!". Honestly, they're both 2 different kettles of fish. Yeah, prog may focus on straight up musicianship, but pop tends focus more on the song. Both groups of musicians have their own way of going around their business. The elitist nature may end up being a turn off for any potential new listeners."
Osaka Punch: "Probably that you have to be a dungeon master or musical geek to enjoy it. I mean sure it helps, but just give it a chance people!"

Ne Obliviscaris: "That these days it's all over the top playing focusing on showing off rather than musicality. Prog music comes in many shapes and forms and it's great to see so many musicians doing so many different things musically circa 2016."
Christina: What's happening with you guys right now? New music, videos, tours?
Ne Obliviscaris: "In the middle of our first North American headline tour (greetings from Louisiana!), and all is going amazingly well thankfully! We have been really blown away by how many people have been coming out to all the shows and how passionate all our fans are here. We are then home for a few weeks before we jet off to UK for a headline tour there before joining Enslaved for a month long trek for their 25th anniversary tour…then maybe it might be nice to do some shows back home I think before we change focus to finishing writing the new album." Follow Ne Obliviscaris on Facebook and Instagram. Become a Patreon & help them make magic happen.
Caligula's Horse: "Right this second we're in the final stages of choosing a new full-time drummer for C-Horse, and we're currently neck-deep in the writing process. Can't say anything in detail yet but the stuff Sam Vallen and I have been coming up with lately is really exciting us. We hope to be on tour again before the year is out!" Follow Caligula's Horse on Facebook and Instagram.
Circles: "Yes, yes and YES!!! We're hard at work putting the final touches on our second album which will be coupled with videos and supported by tours J We're hitting the road again in September for a few cheeky shows including Big Sound so that's exciting. We'll be road testing new material so anyone who comes down can get a taste of what's coming!" Follow Circles on Facebook and Instagram.
Closure in Moscow: "We are currently writing for our third album. Which should be out mid next year. Then an extensive touring schedule will follow. We're very keen to play some new tunes for everyone." Follow Closure in Moscow on Facebook and Instagram.
Voyager: "We're deep into writing our 6th album! The stuff is sounding killer and we're really looking forward to sharing it with our amazing fans. We have a last minute Perth show on August 20 at Badlands then it's prepping for recording and going on tour with Karnivool and Deftones in November. We're going to be bringing the energy on that tour so be sure to come along! We've been live broadcasting videos of us tracking demos so make sure you head to our Facebook page to keep updated. Follow Voyager on Facebook and Instagram.
Toehider: "Currently pressing on and writing new music, so hopefully all 3 of those soon!" Follow Toehider on Facebook and Instagram. 
sleepmakeswaves: "We've been knee-deep in writing, and just got back from some sold-out shows with Cog. We're just about to embark on a headline tour of Australia, our final tour in support of our latest record 'Love of Cartography.' We're taking some rad friends from the US The Contortionist and Perth's Tangled Thoughts of Leaving with us, and then hiding away for a bit to finish writing with a view to recording a brand new album later this year." Follow sleepmakeswaves on Facebook and Instagram.
Acolyte: "Yes, maybe, and really soon!  New music is coming on two fronts, first out debut album Shades of Black is out on the 5th and we're launching it at the Evelyn Hotel in Melbourne.  It has been a long road to the finish line with this one but it's a testament to our ethos of quality without compromise and even after the scars and sacrifices we made to get here we are immensely proud of it and can't wait to put it out into the world.  After that it's go time!  We will soon be rolling out our national tour but in a very different way to how we have previously gone about it.  We have decided to kick off the proceedings to start crafting our follow up release right away and get back to the old ways of writing on the road, working up our new material with an audience and introducing some unpredictability and improvisation into our output.  It's going to be super exciting and means that each show will be a unique experience where music becomes art created in the moment.  It will be such a great and fun opportunity to test our limits and really define Acolyte as a band going forward and what that will mean who can say, but it will be a great road to discovery." Follow Acolyte on Facebook and Instagram.
Whitefall: "At the moment, we're looking at more interstate shows. Our first show as a band was in November of last year, and our EP came out in March. Since November, we've been establishing ourselves as a solid act in our hometown of Canberra, and now we're at the point where we want to start testing ourselves and spreading both our music and our live performance around. In the meantime, we have been writing some new songs that we hope to bring into our set soon." Follow Whitefall on Facebook. 
Osaka Punch: "Yes all of the above! We are touring over in Western Australia for the 1st time with Dead Letter Circus in August/September. We have a new EP out in September which will be preceded by a single & video. Then we tour the East coast throughout September/October in support of the EP." Follow Osaka Punch on Facebook.
Karnivool – "Change" 
Plini – "Selenium " EP
Closure in Moscow – "Pink Lemonade"
Caligula's Horse – "Turntail"
sleepmakeswaves – "To You They Are Birds, To Me They Are Voices In The Forest"
Dead Letter Circus – "Tremors"
Voyager – Seasons of Age
Twelve Foot Ninja – "Kingdom"
A Lonely Crowd – "Blur"
Dyssidia – "Brittle Star"
The Occupants – "I've Been Thinking"
Dead Letter Circus – "The Space On The Wall"
Gatherer – "High Fives"
Mandek Penha – "When I Touch My Leg" 
sleepmakeswaves – "Great Northern"
All the Colours – "… And The Earth Stood Still" 
Toehider – "What Kind of Creature Am I"
Silverchair – "Tuna In The Brine"
Orsome Welles – "Swim"
Caligula's Horse – "Turntail"
Plini – "Every Piece Matters"
Caligula's Horse – "Firelight"
Plini – "Electric Sunrise"
Twelve Foot Ninja – "Invincible"
A Lonely Crowd – "Free Fall" 
Troldhaugen – "Viva Loa Vegas" 
Stare at the Clouds – "The Falling" 
Cog – "My Enemy"
Karnivool – "We Are"
Tangled Thoughts of Leaving – "Quakes"
Meniscus – "Idiot Savant"
Hiatus Kaiyote – "By Fire" 
Caligula's Horse – "Rust"
Karnivool – "Umbra"
Cog – "The Spine"
Majora – "Iridescent"
Sevsons – "Nebulous"
Lowgazer – "Carcosa"
Stare at the Clouds – "The Clear Divide" album
Ebonivory – "Light The Fires" 
Closure in Moscow – "Church of the Technochrist"
sleepmakeswaves – "Emergent"
Twelve Foot Ninja – "One Hand Killing"
Karnivool – "Goliath"
Shanghai – "Caveat Emptor" (The Ultraviolent 2015)
Karnivool – "Aeons"
sleepmakeswaves – "Traced In Constellations"
SEIMS – "TUN"
DISCLAIMER: Spotify is a discovery platform. If you find something you love in this list, go buy it on Bandcamp (links are in the tracklist). Your cash goes 100% to the artist. You can get exceptional slabs of beautiful music for the cost of a couple of coffees or a round of beers. Do you want them to make more? F**king support Australian music. These champs deserve it.
Comments
comments