Sterling Winfield is an iconic music producer and recording engineer based in Texas who has worked with some of the world's most incredible rock bands including Pantera (from Far Beyond Driven onwards), King Diamond and Mercyful Fate. He's been working as an engineer for twenty five years and has witnessed the music industry go through a serious evolution, when as he says "a lot of the power has shifted to being in the hands of the artists. The downside to that is that you need to be super talented at your musical craft, an engineer, a producer, a business man, and an internet expert if you just want to break even." Sterling shares some of his favourite stories of working with everyone from Dimebag Darrell to the next generation of rockers over more than two decades, as well as some sound advice for young aspiring engineers.
Location: I am currently based out of Corinth, Texas, U.S.A. (just north of the Dallas/Ft. Worth area).
Current Gig: Music producer and recording engineer.
Did music run in your family?
Yes. My father Buddy Winfield was a struggling singer and songwriter for as long as I can remember. He never got much of anywhere with it, but that is where I got the music bug from.
Do you remember the first record you bought?
The first album I bought with my own money was AC/DC, Back In Black. But I was into music way before that because of my Dad and the influence of my older brother Ray. He turned me on to rock and hard rock in the early 1970's.
What was the first gig you attended?
My first concert was Cheap Trick, One On One Tour in 1982.
What was your first job in the industry?
The first gig I ever had was straight out of an apprenticeship I had with the late, great Phil York (Willie Nelson, Robert Duvall). He turned me on to a local blues band that needed a live sound guy. I quickly learned that I did not like live sound and finally worked up the courage to go ask for an internship at the best studio in town at the time.
Did you have a "lightbulb" moment when you realised this was what you wanted to do?
Yes. I was in Jr. College at the time and making straight A's, but I was extremely unhappy. My Dad asked me what I really wanted to do and told me to be honest. I told him I loved music but didn't want to be a musician like him. I didn't have the discipline or the drive to do that and I always saw how hard it was on him. He had noticed how much I loved messing around with electronics and suggested being a recording engineer, and it was literally like a lightbulb went on. A truly defining moment in my life. Don't know why I never thought of it before. Guess I was too busy being miserable, haha.
How long did it take to getting into what you do now?
I've been doing what I'm doing professionally since October of 1991, so about 25 years.
+More Dream Job Q&As:
So You Want To Be a Tour Manager? Meet Guy Sykes
So You Want To Be A Manager? Meet Gloria Cavalera
Did you have a mentor, someone you knew that you looked up to?
I've had a lot of mentors over the years, but some of the ones that stand out are of course my first teacher Phil York. There was also a huge influence on me at the studio I worked out of for a few years named Tim Kimsey. He's an amazing engineer and producer from here. He was my partner in crime for the first few years I was engineering.
What do you think are the personal qualities required for engineering and producing records?
Humility. Patience. Outstanding people and social skills. The ability to shut up and listen. The ability to learn. The ability to adapt quickly. If you don't have every one of these qualities, and you want to do what I do, then you'd better just quit and walk away now.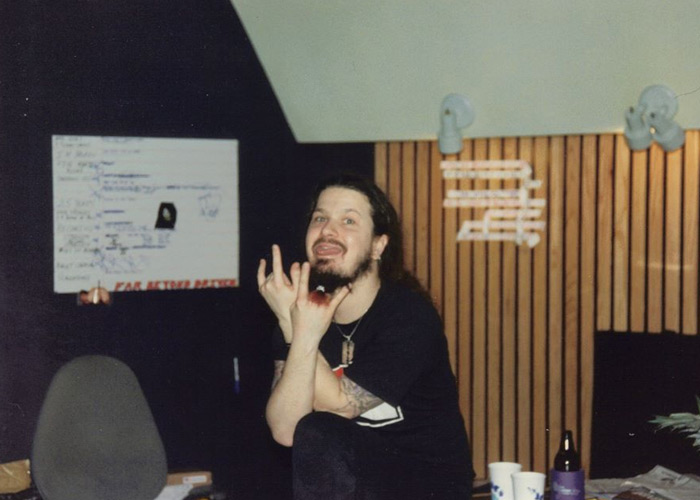 Do you think working in-studio or in live sound requires a significantly different approach?
Technically and acoustically speaking, yes. Two different worlds. Common sense and people wise, no. The scales may tip and be heavier on some of the qualities I just mentioned from time to time, but they are essentially the same approach in that respect.
How important do you think is it to specialise in a particular sound?
It's not important. In fact, steer clear of that kind of pigeonhole stuff. In my opinion, your heart and mind will guide you anyway. Specialising in something will just happen naturally. But you should ALWAYS push yourself to try new and different things or you will get burned out and stop learning. I think you should follow your heart and you will end up exactly where you want to be. If you don't you'll be miserable. I naturally gravitated toward rock, hard rock and metal because it's what I love musically. But that doesn't stop me from being diverse and working with all different kinds of music, like Americana, Country, R&B etc. Get out of your comfort zone or you're gonna get in a rut!
You worked with Pantera extensively from when they were putting together Far Beyond Driven, right? How did you guys meet and what was involved in your role with the band, as part of the Pantera family?
Yes. That is how I met them. In October of 1993, producer Terry Date called the studio I was at and asked me about the gear we had there. They booked "Studio A" at Dallas Sound Lab for a couple of months to finish recording and mix it. We all hit it off pretty well and when we were done with mixing, they told me they needed a bass tech. I would've been an idiot to say no. So I took off and did the Far Beyond Driven world tour and worked with them as a bass tech. I also worked in the studio when we were home as an assistant, an engineer and eventually a co-producer on many projects including Rebel Meets Rebel with David Allen Coe and Damageplan.
What are your fondest memories of working with them? What was Dimebag like, what do you remember most vividly?
That's a whole lot of territory to cover in just a few questions so I'll just keep it simple. We were almost always cutting up or laughing about something or someone. It was almost always a good time and a lot of laughter going on. Dime was the king of the cut-ups. He was also one of the best human beings I have ever known. He had a big heart and was generous to a fault most of the time. Not to mention one of the scariest musicians on the damn planet. There's ten years of worth of memories of hanging out with that guy, so to boil it down to just a couple would almost be impossible. Just watch the home videos. It's all in there.
How did you get involved with working with King Diamond and Mercyful Fate? What was most memorable about the projects you worked on?
He came by the same studio (Dallas Sound Lab) in '92 to check it out after he had moved to Texas and gotten married. He liked it and decided to work there with Tim Kimsey and myself and do the reunion album for Mercyful Fate called "In The Shadows". I remember King had Lars Ulrich from Metallica come in to do a guest drumming appearance on one of the songs ("Return of the Vampire"), and he called me "hey you" for three friggin' days, haha. Very interesting indeed. We all hit it off really well and Tim and I ended up working on a few more King Diamond and Mercyful Fate albums together and then I ended up doing a couple more on my own over at Gary Long's Nomad Recording Studios in Carrollton Texas after that.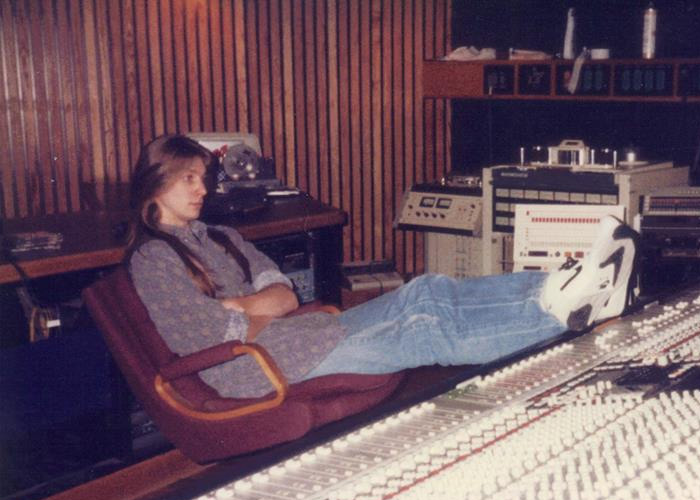 How much has the engineer/producer role changed over the years for you?
I don't even recognise the business anymore. The landscape is changing almost daily now. With the internet and affordable recording software, it has pretty much levelled the playing field for the foreseeable future. Some days it shows signs of levelling out, and some days, it seems like there's no hope. I like that a lot of the power has shifted to being in the hands of the artists. The downside to that is that you need to be super talented at your musical craft, an engineer, a producer, a business man, and an internet expert if you just want to break even. There are also a whole lot more thieves out there too. The fans don't want to pay for music, so they're forcing the hands of the artists as well. It's a bigger world musically out there than it ever has been, so beware of the traps and pitfalls.
What have been your proudest works that you've been a part of creating?
I can grab a positive memory from almost every single thing that I've ever worked on, but specifically, anything I got to do with Dime I always look back on and smile. I also work a lot with local level unsigned bands. I have some bad ass bands and individuals that I work with that the rest of the world has never even heard of outside of their own little corner of it. Super talented people that will never get signed because of stupid shit like "they're too old" or they don't have enough 'likes' on Facebook. Record labels suck in that respect. They're not in it to make music. They're in it to make money. Period. Look for a band out of Dallas called Black Summer Rain, and a band out of Oklahoma City called Vangough. Those guys are total bad asses at what they do! I'm also currently working with a band out of Canada called A Rebel Few. I cannot say enough positive things about this group of guys. We are about to finish their debut album and it's going to be awesome!
What's the best way to approach an engineer or producer or studio manager that you admire if you want to get into the business as an assistant first? What should you NEVER do?
Ask if they need help. Be nice. Smile. The worst they can say is "no". Don't be cocky or an asshole. Don't push your agenda. Your only agenda should be learning.
In your opinion, what is the best first question an assistant should ask on their first day?
Where's the coffee maker and how do you like it? Haha… Seriously, I think the best assistant engineers are the quietest ones. They're just sitting there absorbing and learning. They hold their questions until it's appropriate to ask them. There isn't one magical question you can ask. Just close your mouth, open your ears and learn.
What is the worst thing you could do on your first day?
Ask the band for a picture, then post it on Facebook and tell everyone in the world where you are and invite them to come down to the studio to party with the band and then try to give the band your demo for your band and then erase all of the hard drives on your way out the door. I'd say that's a pretty bad first (and last) day, haha!
What are the three most important lessons you've learned so far?
1. Be humble.
2. Be open minded and optimistic.
3. Have fun. Music is supposed to be fun. 😉
What's been your best "pinch yourself" moment so far?
Too many to recollect. But getting to tune one of B.B. King's "Lucille" guitars, touring the world with the original Black Sabbath, the time I met Brian May at Donnington and getting drunk with Brian Johnson in London while he told the funniest stories and jokes are all pretty far up the ladder.
What's been the most unintentionally hilarious day so far?
Making some funny videos and songs with Dime were always fun and totally unintentional.
What's your ultimate goal, ultimate band, ultimate project? Has it already happened?
I'm always trying to better myself and my production skills, so I think that it's always a work in progress. I mentioned the guys in "A Rebel Few" earlier and I am so very proud of that project for many reasons. Some of the best work I've ever done with someone.
What's the biggest misconception in your opinion about the gig?
That it happens quickly. That you're going to be rich. Take your pick.
What's the hardest part of the job, in your opinion?
It's always the people. All that gear and technical shit is just a fraction of the job. It's the psychology of the job that's the hard part. You're sitting in a room that might as well be a cave, trying to keep a five way marriage from breaking up and musical train from going off the tracks.
What's the best part of the job?
The music you get to be a part of creating. Getting the chills when one of those bad ass moments happens. It's the best.
How important is the phrase "what happens on tour, stays on tour"?
Pretty damn important if you want to keep your job, haha …
For a a young aspiring Australian engineer or producer what would you recommend they do first?
Take ANY gig that comes your way just for the sheer experience. Get some of that under your belt and put together a decent discography and then go write your own ticket.
Interview questions by: Christina Rowatt
Main photo credit: Taelor Burke, Tim Kinsey, Steven "Buzzy" Dehnel
Comments
comments