Pat Fox is a  Melbourne based designer/illustrator/art director responsible for some truly incredible works, from the cover of Amity Affliction's #1 album "Let The Ocean Take Me" to Vance Joy's "Dream Your Life Away" album cover to the amazing Unify Festival poster (2015-2016),  Soundwave Festival poster artwork (2013-2015) and more seminal moments in rock and roll art history than you could care to imagine. Today on The Void he shares the story of his favourite projects, how he went from touring in bands and driving a truck to being a fully-fledged and in-demand artist – who undeniably had a significant impact on everyone he's worked with.
What's your current gig?
I was working under the studio name Apollo Collective and now my own because I felt like my life had been lacking in name related puns. Website is www.patfox.com.au.
You've worked on some fantastic projects in the last few years, can you share a little about the story behind them?
Unify Festival poster design:

This was a fun one to work on. The 2016 event was my second year doing the poster art, so seeing as I was there last year and it's got such an awesome vibe on the day, I couldn't resist hiding a couple of references to a few things that happened as well as a few nods to this year's headliners in the poster.
For example, the amp on the left is a "Sandstorm 800" because one of the punters in the camping grounds had Darude's Sandstorm cranked and on repeat for something like 4 hours straight.
There's also a Town Crier's bell resting against it which reads "Mayor Of Unify" – which is the title bestowed onto Break Even's frontman Bawds after he got buck naked, incited a "party riot" and got carried around the camp site interviewing random folks with a shoe as a mic while his trailing disciples chanted the chorus to "Hey Baby". Solid effort that.
I already know what I want to hide in next year's art so it looks like it'll become a nice little tradition!
Amity Affliction's 'Let The Ocean Take Me' album cover: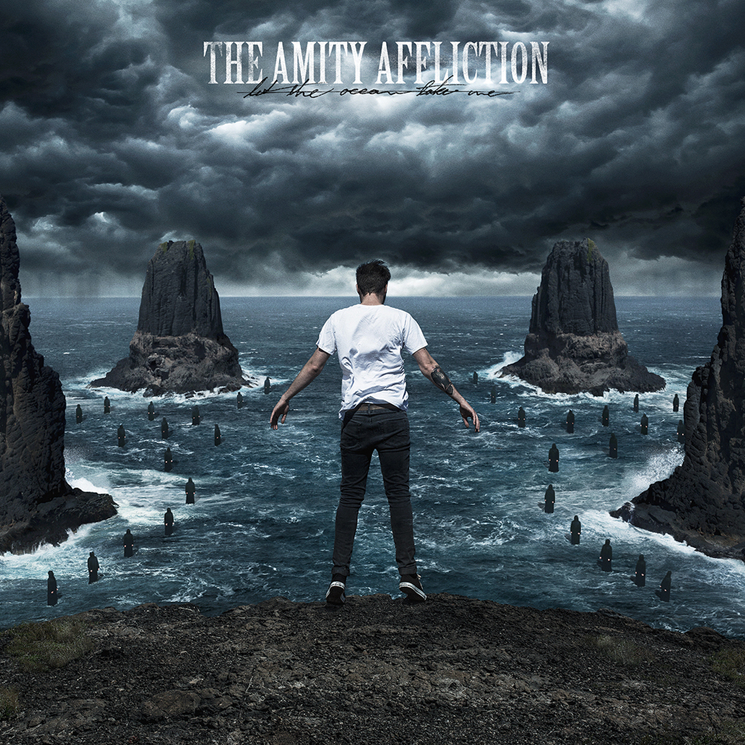 I'm going to talking about the whole project here because it's more interesting! Again, I also a great time working on this one. The idea for the cover mostly came from Joel and Ahren as they had something pretty specific in mind, but they wanted me to run riot on the rest of the artwork and tell a bit of a story.
In this case the character on the cover throws himself into the ocean out of despair and ends up finding a spirit who is in possession of his heart. She then sends him back into the world so he can start his life again a whole person. All of Joel's lyrics for this record dealt with him overcoming his depression so we wanted to reflect that in the artwork.
I roped in James Hartley to shoot this one with me over two days here in Melbourne. The first of which we took over a diving pool and did about 10 hours of underwater photography, which was gruelling but an awesome experience. For the second day we shot on location down at Cape Shanck on the Mornington Penninsula in Victoria. Which boasts a really unique black rock beaches as well as the landmark Pulpit Rock which we used for the "gates" to the cove on the cover art.
Vance Joy album cover:

This one happened really quickly actually. I was brought into this project by Jaddan Comerford who wanted me to pitch a few ideas using some photos shot by Emily Winiker over in the US. I worked through the weekend and wound up with 20 odd variants, one of which ended up being the cover and I've been working on art for James ever since! We did a six-panel gatefold deluxe edition last year which was based off one of the covers from the original pitch I was particular stoked with as well.
The crazy thing about that cover has been seeing James blow up over the last 18 months, then every now and then I'll get sent pictures of the art popping up in different parts of the world or on US talk shows like Colbert, Conan, Kimmel and Seth Meyers. I actually got back from my first real holiday in years (aka I didn't work or look at emails for 2 weeks haha) this time last year and the first email I saw when I got back was from my brother titled "So! This is a thing" and was just a picture of Conan holding up the cover. That was wild to see!
Soundwave Festival poster art:
I was responsible for the 2013/14/15 art, but I reckon the 2013 sticks out to me as a favourite because it was my first as Art Director and it had so many fucking ridiculous bands on the bill. Many being personal favorites. The way that art would work was AJ would throw a theme at me, I'd hit up Daymon Greulich who illustrated the art each year, we'd bounce ideas back and forth till we got something we liked, then I'd do the branding, layout and everything else from there while being foolishly optimistic about not having the change the lineup a million times.
Are there any other special projects that you're particularly proud of?
All the album's I've worked on have their own little story about getting made which is half the fun of it. Ones that stand out would be Hellions, Northlane, and Buried In Verona. Also going way back to Stealing O'Neal's album Don't Sleep, which was the first time I was able to do a stand alone shoot for an album.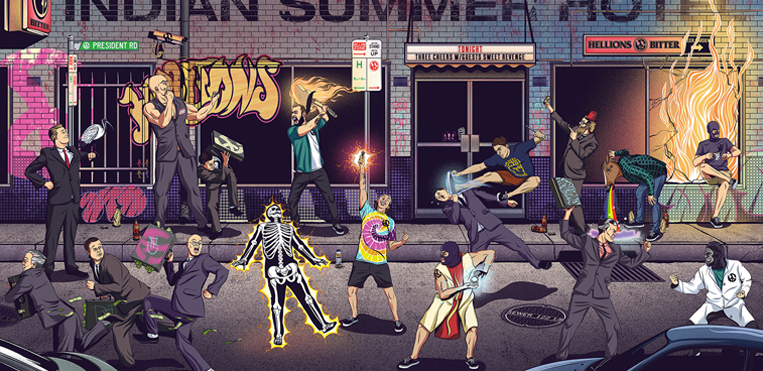 Why did you want to be an artist? What made you get into it?
I kind of got into it by accident! I played in bands when I was younger and drove a delivery truck to support touring and was that guy in the band making fliers and posters. I didn't want to drive a truck forever and needed a back up plan incase then whole getting-famous-playing-punk-rock thing didn't work out and was trying to think of what else I could do. One day my then bass player Joe showed up to work with a bunch of CDs, said "You should do THIS" and handed them to me. The top one was Norma Jean's O' God The Aftermath, which has to this day some of the best art I've ever seen (done by Invisible Creature, who are fucking amazing) and it pretty much clicked straight away. I applied for TAFE shortly after, finished that, applied for a small business grant and I've been making art ever since.
What do you think are the personal qualities a great artist requires?
It sounds cheesy as hell, but you've just got to work hard and be passionate about what you do.
Everything kind of stems from there. If you're passionate about it, it goes from being a job to just being fun.
And if you're having fun, it becomes less of a punish to put in long hours and push yourself further and further on each project.
In your opinion, what's the best first question a rookie should ask on their first day?
Ask questions about anything and everything! There's no such thing as a dumb question if it's something you don't know the answer to.
What is the worst thing you could do on your first day?
Assume that you know everything. That or something like walking into the middle of the room, eating a burger made out of a koala while setting fire to the office and cackling manically in the centre.
That's probably a bit of a dick move.
What are the three most important lessons you've learned?
Work hard, have fun and don't be an asshole.
What's been your best "pinch yourself" moment so far?
Honestly I still get them all the time. One that stands out was at Perth Soundwave in 2013 where I was standing at this spot on the site where you could see the whole main arena, filled with however many thousand people singing along to Dammit with Blink 182, (the song/band that introduced me to punk rock when I was 13) at this festival that'd I'd a small part in pulling together with a shitload of mates new and old.
That was a pretty awesome little moment.
What's your ultimate goal or ultimate project? Has it already happened?
These are always changing but the other things I'm totally obsessed are with film, and I'm a huge Sci Fi fan. So it'd be great to get stuck into a bit of concept and comic art.
Who is your favourite musician to watch from side of stage?
That is a stupidly tough question, but I'm going to cheat and say The Chariot just because they're probably the most insane live band I've ever seen.
What are the benefits to working on the art rather than playing in the band?
I've always found the two to be extremely similar in a lot of ways, but I'd say one thing would be I'm ever so slightly less broke than I would be if I was playing in a band.
What's the biggest misconception in your opinion about the life of an artist?
People tend to assume that you just click your fingers and the job's done because they only see the final product. They don't see the hours and hours of work that go into getting to that point, like all the concept work, back and forth making tweaks here and changes there, even scrapping something and starting over from scratch to make sure you get the best result you can.
What's the best part of the job? What makes you love working on music projects?
Pretty much all of it! There's always going to be shit parts of every job but I feel like I've been lucky.
The bigger album projects are always great. I love being able to come up with some outlandish idea then figure out how to make it work by scouting locations, making props, sets and costumes, direct the shoot on the day, then retreat to my cave and bring it all together.
How important is the phrase "what happens on tour, stays on tour"?
It only applies if you're behaving like a bit of a shit human whenever you're on the road.
Have you done much travelling?
Unfortunately not as much as I'd like, I'm almost always working on something!
What are three things an aspiring designer/artist should do to set themselves up?
Always try to do better, don't compete with anyone but yourself. Other than that just get yourself out there. Get in touch with the people/artists/studios/labels or whoever you want to work with. Nobody's going to know who you are unless you make yourself known!
How do you think things has changed over the years for you and for the industry?
The biggest shift would be the move from physicals to digital. People buy fewer CDs these days but on the other hand they're buying more vinyl, which means I get a bigger canvas to play with which is fine with me!
Aside from that that shift has made it a lot easier for bands to be more autonomous and connect directly with the audience. Which is something I know I would've been stoked with back when I was a kid.
What's your favourite Australian band?
At the moment I'd have to say it's a tie between Gatherer and Violent Soho. Both their recent albums are incredible and both put on a killer live show.
Please share a link to three music videos on YouTube that you reckon are amazing.
Soundgarden's Black Hole Sun: Watch on YouTube
Frenzal Rhomb's When My Baby Smiles At Me I Go To Rehab Watch on YouTube
Violent Soho's Like Soda Watch on YouTube
Comments
comments